News & Activities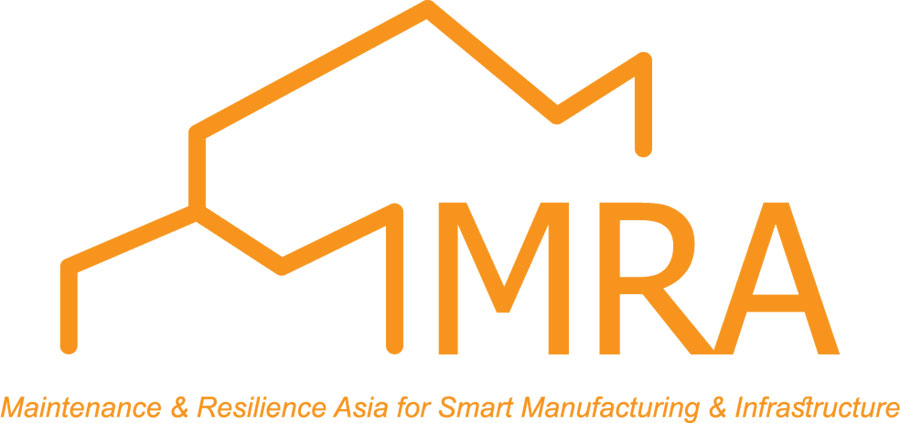 Industrial and construction leaders exhibit 200 cutting-edge technologies that will boost Thailand's productivity in an approach to IoT
Bangkok, October 2, 2019 - The Ministry of Industry and the Ministry of Transport, in cooperation with the Japan Management Association (JMA), Chulalongkorn University's faculty of Engineering and Exposis, is organizing Maintenance and Resilience Asia 2019 (MRA 2019). Serving as a prestigious showcase of the latest innovations and technologies for manufacturing and infrastructure under the concept, Smart Manufacturing & Smart Infrastructure, the event is intended to improve Thailand's industrial and infrastructure sectors, and enable them to better adapt to new developments such as IoT, robotics, and Big Data. The MRA2019 is also expected to help stimulate the growth of and contributes to the upward trend of industrial machinery and related components, especially leading to positive changes in durability, the reduction of loss and the integration with IoT.
Mr.Panuwat Triyangkulsri, an inspector from the Ministry of Industry, said: "Challenges facing the Thai industrial sector today include continuity and risk management as well as the improvement of maintenance and repair. The Ministry of Industry considers these are significant to the growth of establishments and has a direct influence on the manufacturing system. Therefore, the issues will be highlighted in next year's industrial development masterplan where adaptability and understanding must be stretched and enlarged to prevent and reduce possible crises. From here, better loss management and cost reduction in each organization, in particular, should be achieved."
He also commented, "Today, there are big losses in the industrial manufacturing process, which causes the overall efficiency to be much lower than it should be. There are many time-consuming tasks and unnecessary complexity within the production, along with losses induced by overproduction, which result in high production and maintenance costs, for instance. Therefore, we need to develop a new concept or more tangible approach to reduce these industrial losses, and thus to enable the industrial and related sectors to enter 4.0 era and perform in full compliance with the world's industrial megatrends."
"To stimulate the industrial sector to give importance to continuity management, risk management, and the improvement of repair and maintenance, the Ministry of Industry has partnered with the Ministry of Transport, Chulalongkorn University's Faculty of Engineering, the Japan Management Association (JMA), and Exposis to organize the MRA 2019. This internationally recognized industrial manufacturing and infrastructure showcase has been continuously organized in Japan for almost 60 years. And this time, we believe it will serve as a platform for empowering industrial players in Thailand to better adapt to today's changing environment and deal with challenges at the same level as their peers in Japan, whose machinery systems have been well-maintained for increased durability and long-term availability. Japanese industrialists have also gained the benefit of using automation such as IoT, robots and Big Data in their manufacturing process and operations, good assessment systems, and forecasting technologies that help protect them from risks and allow for quick recovery after repeated disasters," said Mr.Panuwat
The MRA2019 is considered to be a growth stimulus and a development accelerator for the machinery sector and its component suppliers. As the sector is an integral part of the industrial supply chain and plays a significant role in driving the country's economy, it is believed that manufacturers and developers could learn from the best examples of these cutting-edge technologies and adjust them, both machinery systems and operations, for more accuracy and precision in relevant to the rise of automation and robotics. Advanced machinery can help simplify the manufacturing process, reduce losses, cut power consumption, and improve environmental friendliness. Additionally, equipment connected to IoT is able to understand the interrelation between machines and the environment such as temperature and factory errors.
Mr.Wijit Nimitrwanich, Transport Technical Officer, said: "Thailand currently has several public transport and infrastructure projects including high-speed trains, BRT extensions in Bangkok and similar projects in other big cities, Smart Cities, and the Eastern Economic Corridor (EEC) Development Plan under the scheme of Thailand 4.0. A large number of highways, tunnels and other facilities are also in the pipeline. Therefore, the government and private sectors working in these projects need to develop full-fledged management, maintenance and efficiency optimization plans to ensure the highest possible functionality and perfect integration that make the projects more resistant to risks and disasters than they are today."
He continued, "Infrastructure and public transport development projects in Thailand should learn from Japan's success stories. Japan has been respected as the world's leader in perfect public transport and infrastructure. The MRA2019 shows how Japan effectively manages its transportation systems, road networks, tunnels, bridges, trains and so on, which have been used for more than 50 years. These infrastructure and facilities, however, last for several years in use with outstanding durability and recoverability because they have been designed to withstand Japan's frequent natural disasters. Additionally, the show featured a series of knowledge sharing sessions run by a variety of organizations and agencies, giving attendees an opportunity to learn from best practices from world's leading countries."
Japan Management Association (JMA) president Masami Nakamura commented on the MRA2019, which is scheduled for 2-4 October this year at BITEC Bangna under the theme, Smart Manufacturing & Smart Infrastructure. "Throughout the 3-day event, business and industrial visitors as well as the general public will be excited by a historic showcase of more than 200 technology and innovation development projects relevant to the industrial world and infrastructure. These include robots used in factories, IoT used in establishments, alarm systems, and a variety of AIs. Knowledge sharing activities hosted by government and private organizations are also in place to pass on their experiences and useful techniques such as the government sector's Smart manufacturing strategies, the enhancement of factory management for the transformation to Thailand 4.0 with maximum safety in Smart industry through partnership between Thailand and Japan, the role of educational institutes in producing new talents for Thailand 4.0 national development scheme, the development of Smart cities in Thailand, and case studies from emerging economic cities in different countries that can be a guideline for Thai entrepreneurs to further develop their businesses."
It is expected that the MRA2019 attracts more than 6,000 visitors from the government and private sectors over 3 days.
For those interested in details and more information, please contact EXPOIS Co., Ltd. at Tel. 02 - 5590856 or email
info@exposis.co.th.
###
For more information
- JC&CO PUBLIC RELATIONS -
**MEDIA HOTLINE: 081-486-3407 **
Back