News & Activities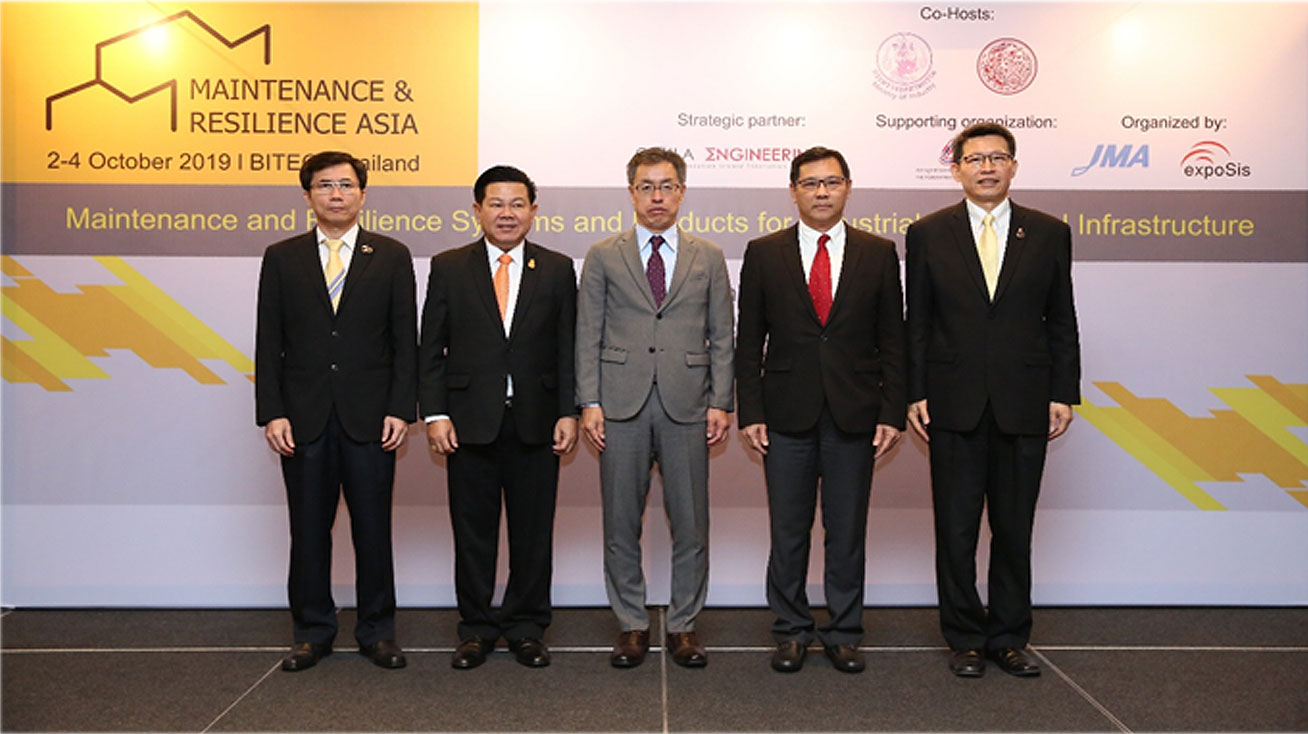 Japan Management Association partners the Thai Government and Chulalongkorn University to launch Asia's flagship development event in Thailand
BANGKOK, Thailand, November 29, 2018 - The Japan Management Association (JMA), in partnership with the Thai Government and other key private and public sector stakeholders, is launching JMA's flagship development event "Maintenance & Resilience ASIA 2019" (MRA 2019) which runs from 2 to 4 October 2019.
The JMA is organizing MRA 2019 together with the Ministry of Industry (MOI), Ministry of Transport (MOT), Thailand Board of Investment (BOI), The Federation of Thai Industries (FTI), and Chulalongkorn University's Faculty of Engineering.
JMA President, Mr. Tadashi Yoshida, said the company was delighted to work in partnership with important Thai government ministries and Thailand's prestigious Chulalongkorn University to bring MRA 2019 to Thailand.
"The JMA is confident to deliver the best event experience possible that provides mutual benefits to both Thai industries and Japanese companies looking to do business in Thailand. We are the business management experts of Asia, specializing in operating large-sized exhibitions and providing consulting service in education and training."
According to Mr Yoshida, JMA has almost 60 years of experience organising events starting from its first Plant Maintenance Show in 1960. The company helps manufacturing plants, factories, infrastructure projects, and maintenance service providers together with logistics and work environment management companies to achieve sustainable manufacturing and infrastructure development. Now its shows are organized under dual platforms dubbed "Maintenance & Resilience Tokyo" with over 500 companies with 1,000 booths attending, and "INCHEM TOKYO" with over 350 companies with 1,000 booths attending.
"The Ministry of Transport sees that the Maintenance & Resilience Asia 2019 will benefit Thailand greatly especially in integrating transportation, infrastructure, and industry development. This development will, in turn, help improve the overall quality of life of people in all sectors and help drive Thailand to a more sustainable economy which is considered the main mission of the Ministry of Transport"
"And as a co-host of the Maintenance and Resilience Asia 2019 which will be held from 2 to 4 October of next year, this will help improve the overall image of Thailand and its technological and innovative potentials which showcase the country's readiness to enter Thailand 4.0 era," said Mr.Chaiwat Thongkamkoon, Permanent Secretary , Ministry of Transport
Ministry of Industry, Deputy Permanent Secretary, Dr. Surapol Chamart encouraged Thai industries to participate in the inaugural event and benefit from JMA's experience and the Japanese expertise that will be showcased at MRA 2019.
"To highlight the importance of maintenance and resilience to Thai industries, MOI is very pleased to co-host the event."
"The Ministry of Industry through the Department of Industrial Works recently launched "Factory 4.0" to create awareness among Thai industries to educate them on the importance of upgrading their processes and systems to be in line with the Thai Government's "Thailand 4.0" initiative," Dr. Surapol Chamart, added.
Maintenance & Resilience ASIA 2019 focuses on four main sectors that potentially could provide huge business opportunities for suppliers in Thailand and around ASEAN. The event focus will be on Plant Maintenance, Infrastructure Maintenance, Supply Chain Resilience, and Workforce Resilience.
The Federation of Thai Industries, whose members are all manufacturers in Thailand, are official supporters of the event and also agree with the MOI's point of view, said Chairman of Engineering Machinery and Metal Work Cluster, Mr.Somboon Pitayarangsarit
"MRA 2019 will benefit our membership by providing innovation, new technology, and system solutions to help upgrade their current manufacturing systems to be more advanced, more productivity and more cost efficient," Mr.Somboon, added.
"Chulalongkorn University, Faculty of Engineering, implemented the "Chula Engineering Education 4.0" program since 2014. The program is in line with the Thai Government's Industry 4.0 campaign, aiming to develop the students' potential to become future innovators in line with the plan to integrate high-level technology and innovation to Thailand's industry and education sectors. We are in full support of the Maintenance and Resilience ASIA 2019 which showcase vital information that will offer a better education and knowledge to the personnel in the engineering and educational sectors in Thailand," said Assoc. Prof. Supot Teachavorasinskun, Dean, Faculty of Engineering, Chulalongkorn University
For the success of MRA 2019, the event is co-organized by Exposis Co., Ltd., an exhibition management professional. For more information about the event, contact Exposis Co.,Ltd at 02-559-0856-8

# # #
About Japan Management Association (JMA)
Japan Management Association JMA, has been a promoter of management innovation for 75 years in Japan.Aiming at creating management innovation and development of society, more than 2,000 experts working with the JMA Group have devoted much effort to executing management-related consulting, research and study, IT software development, publishing books including business planner notebooks and management training. Find out more on https://www.jma.or.jp/en/
For media further information please contact:
Paphada Tuanghirunvimon
TQPR (Thailand) Co., Ltd. Tel: 0 2260 5820 ext. 113 Email: tuang@tqpr.com
Back