News & Activities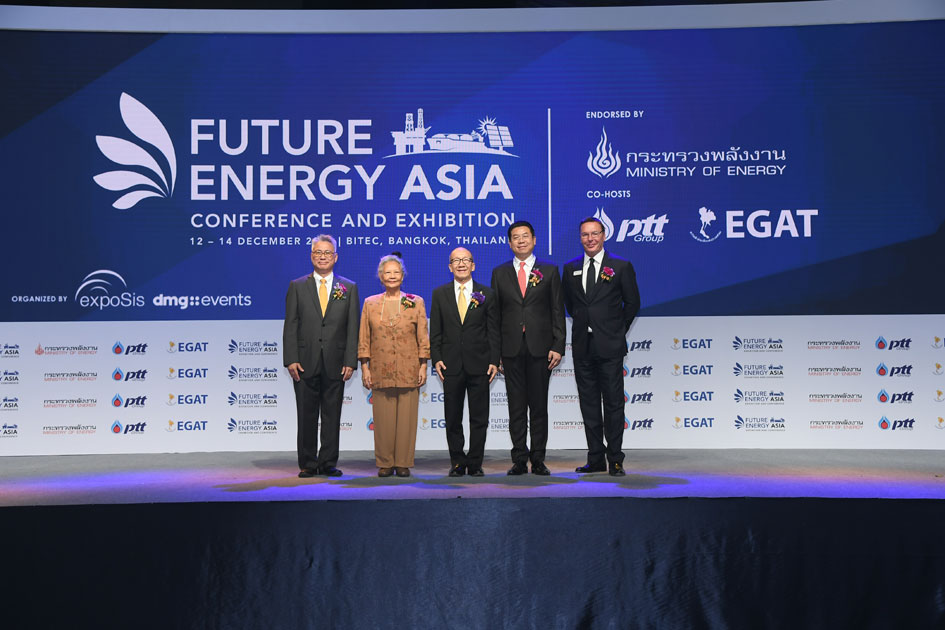 Image caption: Recently, Dr. Siri Jirapongphan, Minister of Energy (center), Minister of Energy together with Mr. Wirat Uanarumit (2nd from right), Chief Operating Officer of PTT Public Company Limited, Mr. Patana Sangsriroujana (left), Deputy Governor – Strategy of Electricity Generating Authority of Thailand, Khun Ying Thongtip Ratanarat (2nd from left), Member of PTIT Foundation and Board & Council of Trustees, and Mr. Christopher Hudson (right), President, DMG Evet Global Energy launched the first of Future Energy Asia Exhibition & Conference (FEA) 2018 at BITEC in Bangkok.
With over 1,000 trade delegates in attendance, the Future Energy Asia Exhibition & Conference (FEA) 2018, which is being held from 12 – 14 December 2018 at BITEC in Bangkok, is a major focal point for an industry than is going through a major transition.
With the primary energy demand in Southeast Asia set to rise by a massive 80% over the next decade and with hydrocarbons set to remain the single largest contributor to the Asian energy mix, the FEA plays a crucial role in knowledge sharing, innovation and developmental within the total oil and gas energy chain.
The exhibition & conference will attract more than 300 strategic and technical conference speakers and 100 exhibiting companies making it an excellent meeting point for exchanging new ideas and industry networking.
"The event will act as a collaborative effort to publicise Thailand's new policies and readiness as an investment hub and showcase Thailand's potential to become the sustainable energy hub for Asia, as it transitions to Thailand 4.0," said Dr Siri Jirapongphan, Minister of Energy, Thailand.
"The transformation and development of Thailand is a major priority for the government which creates incredible business opportunities for both integrated and non-integrated energy companies globally," he added.
The Minister said that the high number of delegates and exhibitors reflected the importance of the event and also Thailand's role in creating a hub for the industry to develop and make further strides within Asia.
Highlights of the event include a 3-day Strategic Conference that will feature strategic topics of discussion such as harmonisation of regional energy policies, promotion of industry-wide collaborations, successful development of energy infrastructure for emerging Asian economies and the greening of Asia.
The technical conference agenda will focus on upstream field development and strategic planning, gas and LNG development & technology, upstream field development & strategic planning, 4.0 digital energy systems, power generation & utilities, downstream and refining and transmission & distribution. Technical sessions will be held at the Centres of Technical Excellence (COTES) and are free to attend for all industry associates.
Future Energy Asia 2018 is organised by dmg events and Exposis Co. Ltd.
For more information and registration, visit www.futureenergyasia.com or contact info@futureenergyasia.com
For more information, please contact:
Wararat Pharahan (Aor) and Nannapat Sukpreedee (Sign)
Spark Communications Co., Ltd.
Tel: 089 231 4263
Email: aor@spark.co.th and sign@spark.co.th
For regional & international media enquiries, please contact:
KATHLEEN REBELLO
Marketing Manager, dmg events
Dubai: +971 55 505 4707 | Singapore: +65 94572543 E: kathleenrebello@dmgevents.com
Back