News & Activities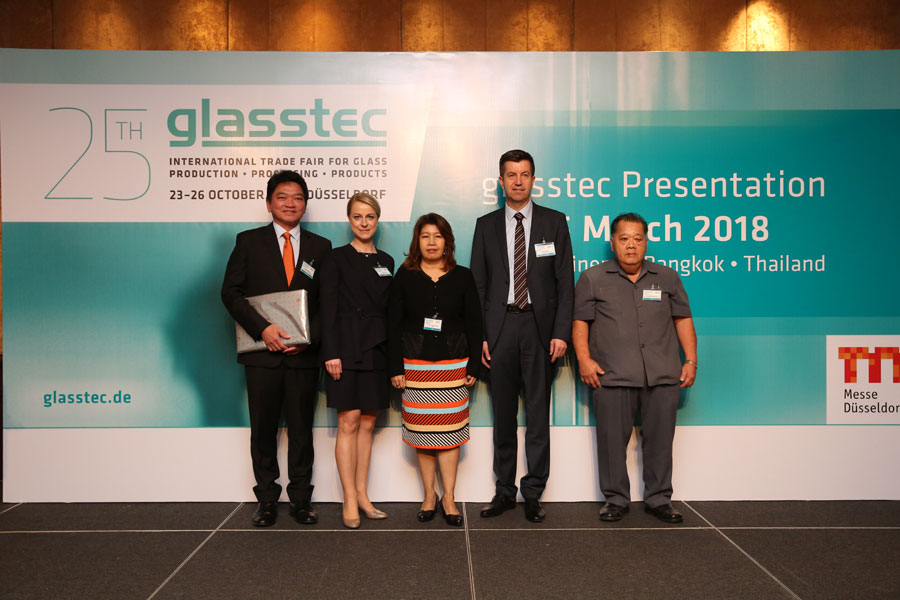 The world's most important show for the glass industry


Bangkok, 15 March 2018: Messe Düsseldorf, one of the world's most successful trade fair organizers, is set to present the world's leading trade fair on the subject of glass - glasstec 2018. glasstec 2018 will showcase the entire spectrum of glass value-added chain – from glass production/technology to glass processing/finishing and glass products/application. glasstec is organized every two years and this year will be held from 23-26 October 2018, in Dusseldorf, Germany.
Shifting consumption patterns and improved lifestyle of consumers, booming of construction & building industries, means demand for glass has never been higher in Thailand and the surrounding region. Thailand's glass industry plays a significantly important role in major industries, with sales revenue of USD 1.29 billion per year. With this high potential, Thailand has been selected for a glasstec 2018 presentation, to introduce and present the insights of this trade fair to the Thai professionals in the industry, which is taking place here in Bangkok today.
"glasstec 2018 is a must for Thai professionals in architecture and construction, window + façades, crafts, packaging, auto glass manufacturing, solar end products, and glass manufacturing processing & finishing glass. Its wide-ranging ancillary programmes include special shows and conferences that will certainly provide added value for Thai visitors," said Ms. Birgit Horn, Director of glasstec, Messe Düsseldorf GmbH
glasstec 2018, the 25th edition, is setting standards for the future of the glass industry. The world's No. 1 show will present a comprehensive bandwidth of innovative products, trends and solutions, combined with an in-depth professional support programme, featuring practical and scientific insights.
Trend topics 2018 for glass will be presented at glasstec 2018, including:
Glass Industry 4.0
Smart Glass / Functional Glass / Display Glass
Thin Glass / Ultra-Thin Glass
Hollow Glass Industry – Innovations and Sustainability
Facades, XXL Glass, Glass Statics, Light Control and Energy Efficiency
Interior Design with Glass
"glasstec is undoubtedly the most important trade fair for the global glass industry. This is where new trends are set and future investments are made," continued Ms. Horn.
Mr. Chartchai Panichewa, Chairman of the Thai Glass Manufacturers Industry Club, The Federation of Thai Industries, said "In Thailand, we set glass products into 4 categories, Container Glass, Flat Glass, Specialty Glass, and Tableware Glass. Total Installed Capacity is more than 4 million tons per year which created almost 13,000 jobs for Thai people. Thailand is the leading glass production among ASEAN 10 countries. Value of which is about 60 Billion Baht.
Glasstec is the world's exhibition for glass technology and innovation. This is a very import platform that provides opportunities to learn about new innovation, technology, machineries, processing designs and production from manufacturers and suppliers from around the world.
Glasstec 2 years ago has recorded more than 1,200 exhibitors from 52 countries and more than 40,000 trade visitors from 121 countries attending 64,000 Sqm. of Exhibition and Trade area. Glasstec therefore is best for professionals from glass industry, building and construction, window and façade, architects, packaging industry, glass-made parts for automotive and solar related product who should not miss this important event."
For more information, please go to http://www.glasstec-online.com or contact Khun Sarunya at Exposis Co., Ltd., representative of Messe Düsseldorf in Thailand. Call 02 559 0856-8 or write to info@exposis.co.th
# # #
About Messe Düsseldorf GmbH
Messe Dusseldorf GmbH is one of 5 most successful trade fair organizers worldwide. With 5 strong areas of expertise, 24 of the world's number one trade fairs covering a wide spectrum of industries ranging from metal & flow technologies, plastics & rubber, printing and packaging to health and medical technologies.
Messe Düsseldorf GmbH is the trade fair company with the highest level of internationalism in capital goods exhibitions. In 2017 Messe Düsseldorf's trade fairs were attended by customers from about 180 countries. The Group runs a global network of sales offices in 138 countries (74 international representations) as well as competence centres in 8 countries.


For media further information please contact:
Sarunya Exposis Co., Ltd.
Tel: 02-559 0856 ext. 11
Email: sarunya.s@exposis.co.th
Back